Little Big Horn Battlefield National Monument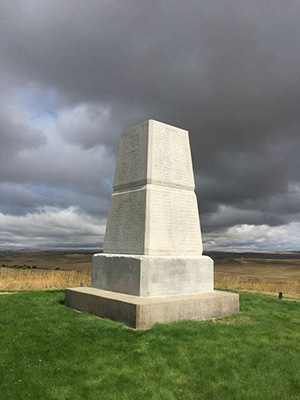 It could have just as easily been called the "Greasy Grass Battlefield National Monument", had it been named by the Crow and Lakota Sioux tribe. "Greasy grass" was coined by the local natives, who found that the deep, dewy grass made their moccasins and horse's bellies wet and greasy looking – hence "greasy grass". However, the river was officially named the "Big Horn" by fur trader, Francois Larocque, due to the abundance of Big Horn sheep in the area. And so, we have the Little Bighorn Battlefield National Monument.
As a note, the original name of the actual battlefield was Custer Battlefield. In 1991, President George H.W. Bush made sure that homage was given to both the Native Americans and the 7th Cavalry, by renaming the site Little Bighorn Battlefield. Also, in 2003, a special memorial was dedicated to honor the Indian warriors who also fought valiantly and sacrificed their lives.
This monument is overseen by the National Park Service and you can hear the vivid stories relayed by a Park Ranger at the Visitor Center or you can take a self-guided tour by purchasing a an audio guide, which tells you about the important sites.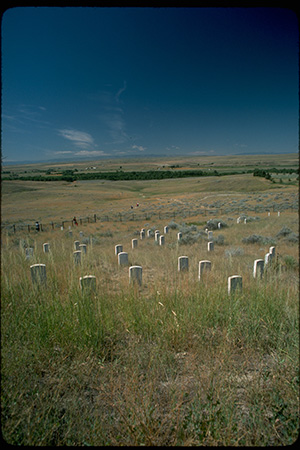 But we want details, don't we? We like to get a front row seat, where we can imagine the painted faces of the regal warriors and the flash of light off the sabers as they're drawn by the cavalry. We want to hear the pounding hooves of the horses, the whoosh of the arrows and the blasts of gunpowder. Well, the exhibits at the Little Bighorn Battlefield National Monument can come mighty close to placing you in the middle of the flurry of battle. The walking tour will take you through the original battlefield, and in the Visitors Center you can see displays of weapons and artifacts, as well as an inside look into the life of the Plains Indians.
The Battle of the Little Big Horn, although disastrous for the US Army, put a victorious 'feather in the war bonnet' of the Native American Indian. They fought and they conquered – for a time. Within five years, almost all of the Cheyenne and Sioux tribes were confined to reservations. But the nickname, Custer's Last Stand, will be an eternal reminder that determination can overcome might.
Additional information is available at the Friends of Little Bighorn Battlefield website: www.friendslittlebighorn.com.