Big Horn River and Little Horn River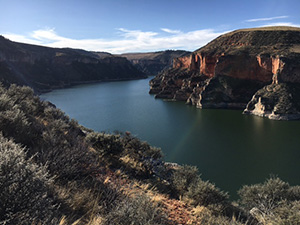 To the local and visiting anglers, "the Horn" is well known to be one of the finest Rainbow and Brown trout streams in the United States – hosting between 5,000 and 6,000 trout per mile. That's enough fish to fill a lot of fry pans! A popular fly fishing area is found near Fort Smith, Montana and is the only part of the 460 mile river that runs through Wyoming, as well.
The Bighorn River is as clean and clear as it is deceptive. What looks like a shallow mossy rocked bottom in this cool tail-water, can be as slippery as a feisty trout and easily up to10 feet deep – better grab the chest-high waders. If you're a novice and looking for a guide or a place to stay, there are several options near Fort Smith. You'll never find yourself without someone who can give you tips to reel in the big one.
If fishing isn't your angle, then the National Park Service maintains public parking and boat launching facilities at the Afterbay Dam for other activities. The Bighorn River actually starts out as the Wind River at Wind River Lake in Wyoming, then as the river spreads out into what is called Wedding of the Waters. This is where is becomes the Bighorn River and then Bighorn Basin. Imagine a lake that stretches out for 60 miles, with 55 of those miles cutting through the Bighorn Canyon and on to the Yellowtail and Afterbay Dams.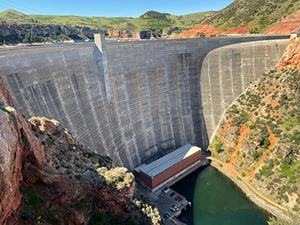 As you come into Hardin, the Bighorn is met up by the Little Bighorn and then travels into the Yellowstone River. As the Little Bighorn heads north, it runs through the Crow Indian Reservation and past the villages of Wyola and Crow Agency, and the town of Lodge Grass. And let's not forget why the Little Bighorn is nationally recognized – the Battle of the Little Bighorn was fought in June of 1876, right on that hallowed ground. Be sure and check out the Little Bighorn Battlefield National Monument and Visitors Center while you're in the area.
There are many sights to behold, no matter where you turn. It's Montana, after all…Big Sky Country that envelops you in wild beauty, history and adventure.